HP EliteBook 840 G3 Laptop Won't Power On - Fix
I had a HP EliteBook 840 G3 Laptop that wasn't working. It wouldn't power on at all. I was able to fix it using the method described on this page. This may not work in all situations. If there is a physical probolem then this solution won't work. You may end up needing to replace hardware or finding anothe solution.
Steps to fix:
Remove power cord
Unscrew and remove bottom plate ( see video below )
Remove Battery
Hold power button for 20 seconds ( or longer )
Re-insert battery
Plug in power cord
Push power button to turn laptop on
This worked for me. Other people report mixed results. For some people, this fixes everything saving them a lot of trouble. For other people, this doesn't work at all. Your milage may vary.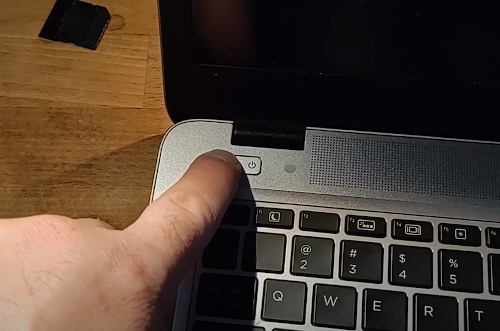 The idea here is that one of the chips is in a bad state. Even after removing power completly the capacitors could still have enough charge to power some of the chips on the board. Holding the power buttin while all power is disconnected ensures that every last bit of electricity is purged from every component possible.
HP EliteBook 840 G3 Laptop Won't Power On - Video
Here is a video I recored while fixing a laptop with this exact problem:
Inside
The laptop looks like this with the back panel removed: