ODROID-XU4Q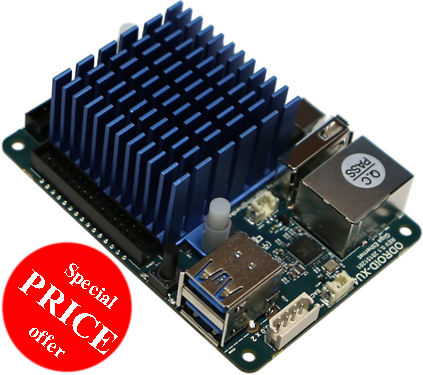 | | |
| --- | --- |
| Old as ov Nov 2020 | current |
| Name | ODROID-XU4Q |
| Year | 2015 |
| SOC | Exynos 5422 Octa |
| CPU | Cortex-A15 / Cortex-A7 |
| Cores | 4 / 4 |
| Clock | 2.0 / ?? GHz |
| Bits | 32 |
| GPU | Mali-T628 MP6 |
| RAM | 2 GB |
| Storage | microSD, eMMC |
| USB | 1 × USB 2.0, 2 x USB 3.0 |
| Video out | HDMI 1.4a (type A) |
| Audio in | HDMI |
| Audio out |   |
| Network | 10/100/1000 Ethernet |
| Peripherals | GPIO, UART, I²C, I²S, SPI bus, PWMADC |
| Power source | 5 V 4 A (5.5 x 2.1 mm ) |
ODROID-XU4Q - Third Party Review
The ODROID XU4Q has compatibility with the vast majority of major Linux ARM distributions and Android devices. It is a good board with Gigabit Ethernet, USB3, and reasonably fast, especially for the price. However, the processor is just 32bit. It is significantly quicker and more reliable than an SD card to use eMMC instead of a traditional card reader. It works well with Armbian, at least when running in the headless server mode. It necessitates the use of the proper power supply. In contrast to previous boards, you can't just plug in any old 2.5A USB power source to power the board.
The XU4Q is equipped with two USB 3.0 SuperSpeed host ports that are standard in size. To evaluate the performance of USB 3.0, we connected an SSD to a USB-SATA bridge, model JMS567. For this test, we selected the Samsung SSD 850 PRO 256GB model, which has a capacity of 256GB. On the XU4Q, USB 3.0 access speed is almost ten times quicker than USB 2.0 access speed!
One of the significant modifications is the addition of an HDMI type A connection, which replaces the mini HDMI port that was previously present on most other ODROID boards and which (indirectly) created troubles for numerous users, including myself. Only a few ports and integrated circuits (ICs) are still present, including USB OTG compatibility, DisplayPort output, the Audio codec (and audio jack), and the power monitoring sensors. ODROID-XU3 and ODROID-XU3 Lite have RAM clocked at 933MHz instead of the previous 750MHz speed.
Who should be interested in the board
The XU4Q is backward-compatible with the XU3 in terms of software! The XU4 is, on the other hand, more compact, more inexpensive, and more extensible. You can use MicroSD cards or eMMC modules to boot the XU4 computer. It is possible to pick the boot interface (MicroSD/eMMC) via a hardware switch that is easily accessible. The MicroSD interface is also capable of supporting the higher performance UHS-1 mode.
A 512MB file (read/write) got accessed on three different storage solutions, and the results revealed significant performance disparities. The eMMC 5.0 storage is approximately seven times quicker than the MicroSD Class-10 card in read testing. In read testing, the MicroSD UHS-1 card outperforms the MicroSD Class-10 card by around double. Many applications benefit from using the MicroSD UHS-1 card, a low-cost solution! In terms of data transmission rates, the ODROID-XU4Q is unbeatable - speeds that are required for many of today's computer workloads, including heavy 3D apps, video streaming, web surfing, and gaming.
What sets the board apart?
The XU4Q is equipped with a built-in heat sink that helps maintain proper cooling when operating at high-performance levels. When performance is at its peak, the heat sink will turn on to keep the performance at that level for as long as possible. It will be somewhat more robust and quieter on the XU4Q because of its fitted heat sink (since there is a heat sink instead of a heat sink). Even though we only sacrifice 10% of the performance at the 2.0GHz peak, we will be compensated with complete stillness.
It is smaller, cheaper, and more extensible than the XU3 in comparison to the XU3. The Odroid-XU4Q is an improved version of the Odroid-XU4, which now has a passive heat sink in place of the active fan seen on the original model. By including eMMC 5.0, USB 3.0, and an Ethernet interface, the Odroid-XU4Q provides outstanding data transfer capabilities in such a compact form size as a smartphone or tablet. You must use a MicroSD card or an eMMC module to boot the operating system. It is highly recommended that you use an eMMC module for faster operating system booting, quicker program launching, smoother multitasking, and efficient cloud access.
Some features that set the XU4Q apart are :
Linux Kernel 5.4 Long Term Support (LTS).
Power: 5V/4A input at the time of writing.
Dimensions: about 83 x 58 x 20 mm (excluding cooler).
HDMI 1.4a is used for the display.
A Gigabit Ethernet port is available.
USB 2.0 host, 2 x USB 3.0 host, 1 x USB 2.0 host
eMMC5.0 HS400 Flash Storage Interface is a high-speed flash storage interface (eMMC module sold separately).
2Gbyte LPDDR3 RAM PoP layered in a single module.
Mali-T628 MP6 ( OpenCL 1.2 Full profile and OpenGL ES 3.1/2.0/1.1) is a high-performance graphics processor.
Exynos5422 processors with CortexTM-A15 2GHz and CortexTM-A7 Octa-core CPUs from Samsung
What should users know?
Heterogeneous Multi-Processing (HMP) technology, implemented in the ODROID-XU4Q, provides the necessary power for the device. In addition to having more powerful and energy-efficient technology, the ODROID-XU4Q has a smaller physical size than previous generations of computing devices. With open source support, the board can run a variety of Linux flavors, including the most recent Ubuntu 20.04 and Android versions 4.4 KitKat, 5.0 Lollipop, and 7.1 Nougat. The ODROID-XU4Q features incredible data transfer rates because of the integration of the eMMC 5.0, USB 3.0, and Gigabit Ethernet interfaces, which is becoming increasingly crucial for supporting enhanced computing capability on ARM devices. Users will notice a significant improvement in computing performance, particularly concerning speedier booting, online surfing, networking, and 3D gaming.
The takeaway
If the XU4Q is being used at full throttle, the passive heatsink will not always be sufficient, and you will need to purchase a case with a heat sink to blow over the processor. Except for a few issues with Candy Crush Saga, Ubuntu 18.04 on the ODROID-XU4Q board is a generally satisfactory experience. In some cases, the system performed well and reliably with fast program loading times, H.264 hardware video coding, and most features working as expected. The Odroid-XU4Q is one of the most powerful tiny computers available at this price point. The Q in the name means quiet; it offers almost the same performance as the Odroid-XU4, but it is far subtler.