ODROID-N1
The ODROID – N1 is a single computer board released by Hardkernel designed to rival and outpace the popular Raspberry Pi 3. Despite its small size and modest $110 price tag, the N1 features specs similar to the larger and more expensive Samsung Chromebook Plus laptops, and in a smaller and more versatile form. This little board has the capabilities to function as a Linux-based PC, media center or board for developing hardware and software. Whether you want to make a tiny desktop or a powerful yet portable battery powered PC, the ODROID – N1 is a great option with lots of options for upgrading.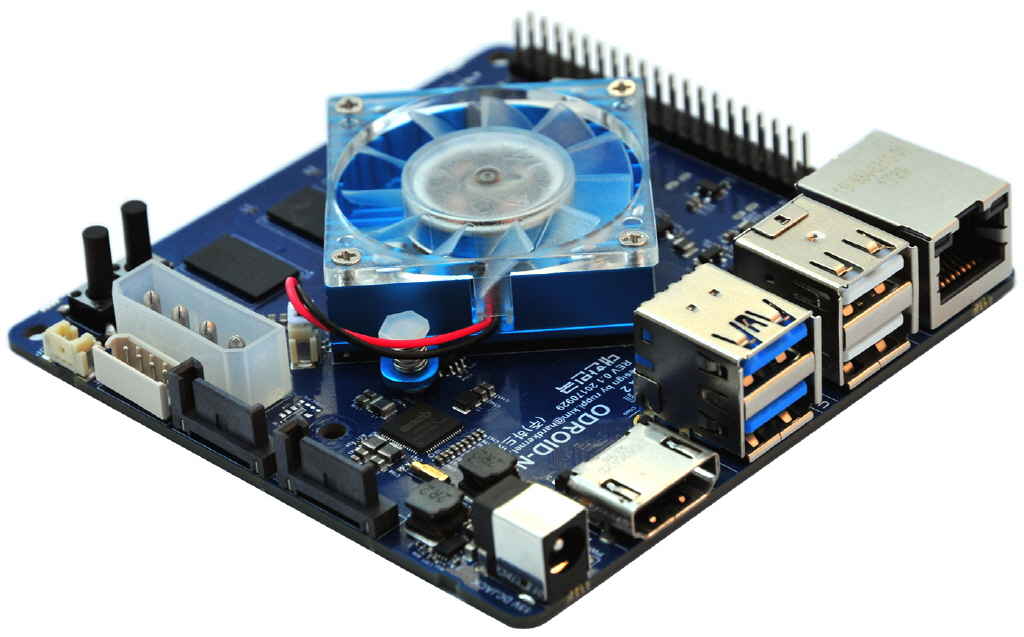 Key features of this board include a Rockchip RK3399 hexa-core processor with a dual-core Arm Cortex-A72 @ 2GHz, a quad-core Arm Cortex-A53 @ 1.5Ghz CPU and a Mali-T860MP4 GPU (with support for OpenGL ES1.1/2.0/3.0 and OpenCL 1.2). System memory is comprised of 4Gbyte DDR3-1866 RAM with a Dual channel interface for 64bit data bus width. The N1 features an assortment of storage options, including eMMC 5.0 (HS400) flash storage, a UHS capable micro-SD slot, and two ATA3 ports using native SATA implementation via PCIe-gen2 to SATA3 interface for connecting to HDD or SSD. Four USB ports are available for easy peripheral hook ups, two for USB 3.0 and two for USB 2.0. The power supply is 12V/2A by default, but if using HDDs it is recommended that you upgrade to 12V/4A PSU. There are plenty of options for expansion using the built in 40-Pin GPIO port with GPIOs, I2C, SPI, S/PDIF, PWM, ADC, UART, GND, 3.0V, and 5.0V. This board officially supports Ubuntu 18.04 or Debian Stretch with Kernel 4.4 LTS, and Android 7.1, but has been found to be compatible with other Linux distributions as well.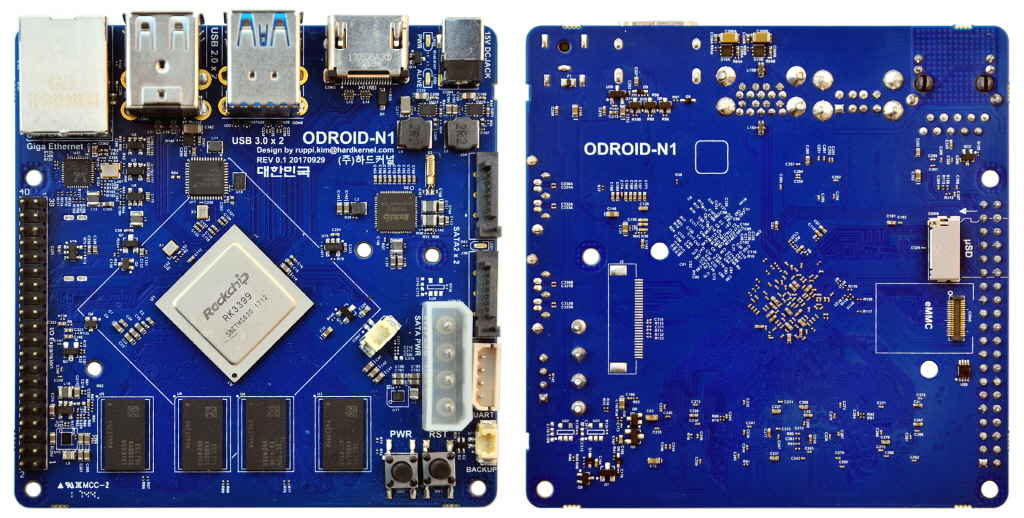 Excluding the cooler, this mini PC board measures only 90 x 90 x 20 mm, and so can easily fit into small cases and is an ideal choice for size restricted situations. It is capable of 1080p video playback, thanks to GPU hardware acceleration on YouTube in the Chromium browser and the VLC media player. Benchmark tests have shown the Odroid-N1's Arm-based Cortex A72-based CPU core to be about about 20-30% faster than the Arm-based Cortex A15 CPU core in its predecessor, the Odroid-XU4. Other benchmark tests show the N1 outperforming the Raspberry Pi 3 Model B when running Ubuntu 18.04. Tests of the two SATA3 ports show that the Odroid-N1 able to achieve a read/write speed of about 380MB/sec on an attached SSD in tests performed by the developer. In addition to all the hardware perks, the N1 comes with the added advantage of good software support, and ODROIDs have a large and helpful community of users and fans to offer advice and suggestions. The ODROID – N1 has been discontinued, but with its impressive hardware specs and proven high benchmarks, it's still a board well worth tracking down. If you're looking for a great single board mini PC flexible enough for a number of different applications, the ODROID – N1 is a great choice.