ODROID-HC1
The ODROID – HC1 (also known as Home Cloud one) is a single board mini computer designed to be an affordable way for users to use network attached storage (NAS). Using this device, you can set up a home cloud server that can either be used to centralize data from multiple users for easy sharing and streaming between family and coworkers, or else used to make a central hub for single users who utilize many devices. With NAS, users can consolidate data that would have otherwise been scattered around different devices into one secure location, without the headache and security risks involved in using external cloud storage such as Google Drive or Dropbox. Whether you're looking to easily and seamlessly stream videos, music, or other media between devices without having to copy and move them, to share and collect files between collaborating coworkers, or even just automatically backup you PC and photos, NAS is an easy solution, and the ODOID – HC1 makes it easy and cheap to set up.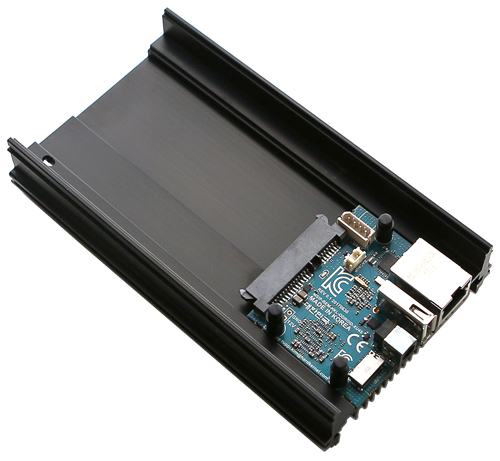 The ODROID – HC1 is based on the ODROID – XU4 platform, and is designed for use with full size Linux distributions, including Ubuntu, Debian, Arch, and OMV. This powerful platform has been tested and proven to smoothly run Samba, Wordpress, FTP, NFS, SSH, Apache, SQL, Docker, and other popular versions of server software. The HC1 comes pre-installed with an internal high performance SATA port and Gigabit Ethernet port so that users don't need to mess around with USB cables and inconveniently designed chipsets. Features from the original XU4 platform that weren't geared toward NAS has been removed, both simplifying and reducing the price of the device. HDMI and eMMC connectors, external USB3.0 ports, the power button, and boot selector switch were all removed for this reason, making the HC1 a streamlined and affordable home cloud computing solution. The HC1 has also been tested for compatibility with popular storage devices, including the Seagate Barracuda 2 TB/5 Tb HDDS, the Samsung 256 GB SSD, and more. These kits are designed to be easily stacked, so more can be added as your operation and needs grow using the Ceph file system. The HC1 kit comes with the ODROID – HC1 board and an aluminum stackable mounting frame/heatsink, so all you need to get it running is a micro SD featuring the Linux distribution of your choice and a compatible power supply (a 5V/4A with 5.5mm/2.1mm barrel with center positive and outer negative is recommended).
Key features of this device include its Samsung Exynos5422 Cortex-A15 2Ghz and Cortex-A7 Octa core CPUs, stacked 2Gbyte LPDDR3 RAM PoP, and SATA-3 and Gigabit Ethernet ports. It comes with a USB 2.0 host, and UHS-1 capable micro-SD card slot to boot media, such as the OS. Despite its small 147 x 85 x 29 mm size, the HC1 is a powerful option to run a reliable and versatile NAS. Whether you're a beginner setting up your first NAS, or a professional looking for high end equipment for a great price, the HC1 is a great choice.