ODROID-GO
Released to celebrate the 10th anniversary of the first ODROID, the ODROID – GO is an assemble-yourself game kit modeled after old school portable gaming devices, like the original Gameboy or Gameboy Color. Assembling the device is simple enough for an older child, and is a fun and educational way to learn about the various internal parts and functions of video game consoles. Once assembled, the GO can be used to learn basic coding with Aurdino, but the primary use if the GO is to emulate older video game consoles. The GO emulator supports Gameboy, Gameboy Color, Game Gear, Nintendo Entertainment System, and Sega Master System games. Using a MicroSD card and legally obtained ROMs, you can make a collection of all your old favorite games and play on the GO.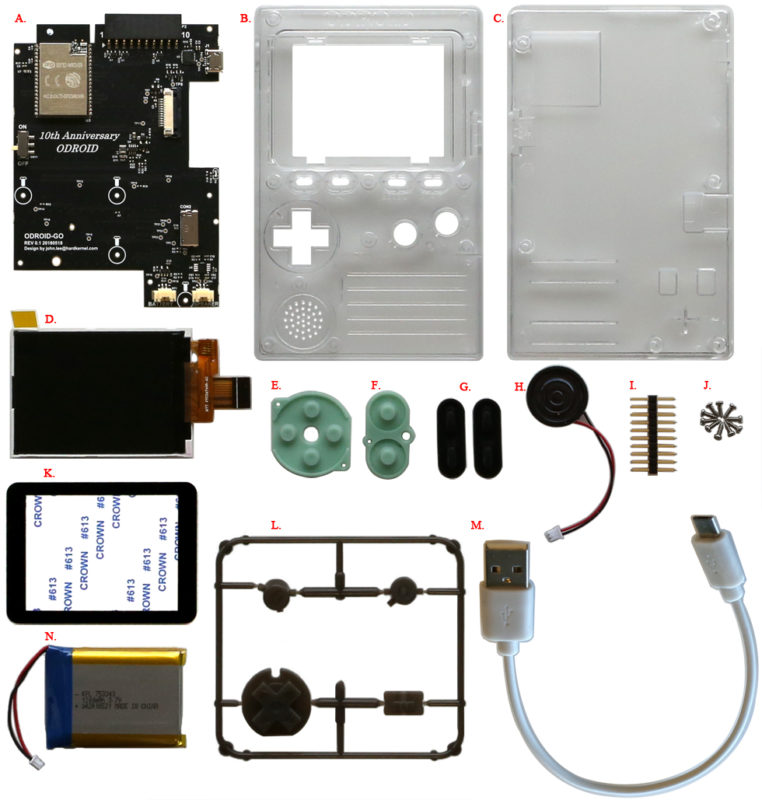 The GO kit includes everything you need to get playing except for an 8GB or higher MicroSD card and ROMs. Game ROMs are not available from Hardkernel, who doesn't condone piracy and expects that users will obtain them legally. The package includes the ODROID – GO board, a front and back enclosure, a 2.4" LCD module, a 80hm .5W speaker, a 1200mAh Li-ion battery, a 10 pin male header, a micro USB cable and all the screws and buttons needed to get the system up and running. No soldering in necessary to assemble the GO, and the most complicated tool that you'll need is a Philips head screwdriver. The ODROID – Go has it's own proprietary operating system that makes it fast and easy to get started with playing emulated games.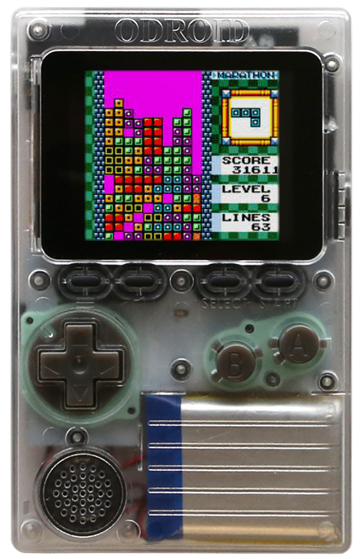 In addition to emulating retro games, the ODROID – GO can be used for other fun and educational learning projects. Using Arudino, kids can learn to program their own simple "Hello world" message. Using example code, kids can even make their own games. Tetris and Flappy Bird are included as buildable examples to whet their appetite for programming and game development. With the addition of the Ultrasonic Ranging Module HC – SR04, the device can be converted into an ultrasonic distance meter. Using the Weather Board 2, the Odroid – Go can be used to make a portable weather station, for kids interested in both electronics and meteorology. Kids can add another LCD display, control LEDs from a smartphone using WIFI, experiment with Bluetooth, and other educational projects using this fun little microcomputer.
Overall, the ODROID – GO is an affordable and fun way to introduce kids to electronics (or even to simply enjoy for yourself). The assembly is paint-by-numbers simple, and the downloadable operating system offers a simple solution for the more challenging parts of putting together a micro computer. The clear plastic case lets kids see all the internal parts even after they are done assembling the kit, which makes it easy for them to see and remember the different parts and their functions. The ODROID – GO is a great first maker project to introduce kids to hardware and software, and to get them excited with electronics, programming, and tinkering with machines.