ODROID-C0
The ODOID – C0 is a scaled down version of the ODROID – C1+. This versatile chip has countless uses, and can be utilized to make a multimedia center, a portable game emulation system, a headless server, and tons of other uses. Its small size makes it especially useful for Internet of Things projects, wearable projects, drone construction, and other applications that benefit from a lightweight, discrete device. With it's low, easily affordable price tag (originally retailing for $28) and robust computing capabilities, the ODROID – C0 is ideal for prototyping experimental devices.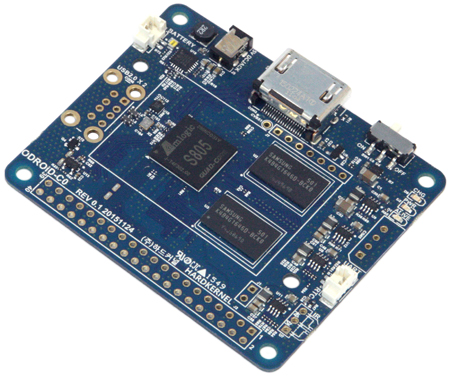 Despite the C0's small size, this tiny computer packs a punch. Key features of this device include the Amlogic ARM® Cortex®-A5(ARMv7) 1.5Ghz quad core CPU and Mali™-450 MP2 GPU. The CPU is powerful enough for a wide variety of tasks, but only requires a minimal amount of power to run, making it a good match for miniaturized devices where large batteries and power cords would be impractical. While the Ethernet and extra USB ports have been removed from the C0 in order to reduce its size, a USB host port connector pack is available if your project calls for it. The C0 features a fully integrated battery power circuit, so adding a battery for portability is easy. The board comes with 1GB DDR3 SDRAM and a eMMC4.5 HS200 Flash Storage slot / UHS-1 SDR50 MicroSD Card slot for extra storage. There are unpopulated spaces for 40pin + 7pin GPIOs and infrared receivers, if your project needs them (but not pre-installed, for projects that don't). The C0 retains an HDMI port for easy connection to LCD displays. All ODROID-C1/C1+ OS images are compatible with the C0, and some of the operating systems that can run on this tiny microcomputer include Ubuntu, Android, Debian, and countless other open source packages.
The ODROID – C0's lighter weight and lower cost than its predecessor makes it ideal for prototyping new devices. By removing extra ports and features, the PCB size is reduced by 24% and the weight cut from 40g to just 16g. Some projects that users have made using this extra miniaturized computer include making an extra small flying drone and a walking desktop robot with an LCD screen. Other users have made this board the core of their own handmade portable emulation machine by combining it with a display, speakers, buttons, a 3D printed case, and other parts (this user was able to make a device close in size to the original classic Gameboys, but powerful enough to run N64, Dreamcast, and PSX games). Users have made audiophile stations, light sensors, and a $35 quad core PC using the C0 as a base. A user featured in the ODROID magazine used this board to build a fully functional, dual booting professional-grade tablet for less than $100. During a sysbench prime number stress test with 10,000 prime numbers, this homemade tablet finished in 45.9 seconds. Your imagination is the limit with this powerful minicomputer. If you're looking for quad-core levels of computing power with a low price tag and tiny size, the ODROID – C0 is a great choice.