ODROID-MC1 Solo
As an introduction to its design, the MC1 was meant to be four stacking modules, each of which would be equipped with an Octa-core Samsung Exynos 5422 Single Board Computer (SBC) and ready to be utilized as a personal cluster for both learning and productive work. This computer can run a wide range of parallel computing workloads simultaneously.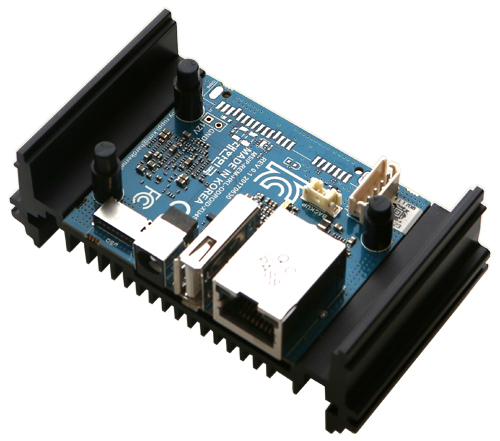 The need for a single unit, 2, 3, 4, 5, 6, or a stackable cluster was felt by a few people. For those criteria, the MC1 Solo offers a more significant number of possibilities. The ODROID-XU4 is capable of running the operating system image.
The Odroid-XU4S SBC is used to power both the Odroid-MC1 Solo and the Odroid-MC1, and it is comparable to the SBC used in the Odroid-HC2 NAS which was unveiled in January. The Odroid-XU4S SBC power both the Odroid-MC1 Solo and the Odroid-MC1. There are also smaller, headless versions of the open-spec Odroid-XU4 SBC that may be used on both boards.
It is worth noting that the MC1 board does not have any of the features seen on the previous generation, like HDMI, USB 3.0, optional eMMC, 30- or 12-pin GPIO connectors (the HC2). Like the Odroid-XU4, the boards are powered by the Samsung Exynos5422 SoC, which features four Cortex-A15 cores, four Cortex-A7 cores, and a Mali-T628 GPU.
These boards all feature a gigabit Ethernet connector, a USB 2.0 host port, and a bootable microSD card slot with UHS-1 capabilities, among other features. The USB 3.0-based SATA interface seen on the HC2 NAS computer is not present on the XU4S, used on the Odroid-MC1.
Features:
Samsung Exynos5422 processors with 2GB of RAM, which are octa-core processors.
Adapter for high-speed Ethernet connections
USB 2.0 is the host device.
Memory card slot with a microSD card that supports UHS-1 speed
The following are the approximate dimensions: 92x42x29 mm.
Screws with self-tapping heads: M3 x 8mm
Newer versions of the Linux kernel, such as 4.14 Long Term Support (LTS) and more recent versions
Samsung Exynos5422 is a dual-core processor with 1.4GHz Cortex-A7 and 2.0GHz ARM® CortexTM-A15 processors.
LPDDR3 memory with a clock speed of 750MHz and a memory bandwidth of 12GB/s on a 2x32bit bus.
The MaliTM-T628 MP6 graphics processing unit. OpenGL ES 3.1, 3.0, 2.0, and 1.1 Full profile, as well as OpenCL 1.2, are supported.
Micro-SD card slot with a maximum capacity of 128 GB/SDXC and compliance with UHS-1 standards
1 USB 2.0 A type port with high-speed data transfer
Ten-gigabit Ethernet with RJ-45 connectors Gbit Ethernet
4.8V to 5.2V power supply input is provided by a DC Barrel Jack Socket 5.5/21mm.
Who should be interested in this board?
There is also a 5V/4A power supply, a UART, and an RTC with a battery connector in addition to the self-tapping screws of the size "M3 x 8mm." The XU4-compliant Linux image is powered by Kernel 4.14 Long Term Support (LTS). The Odroid-MC1 Solo is now available for purchase for $48 (plus delivery) on Amazon.com.
What should users know about it?
Pros
High-performance level
Fast
Reliable
Because of the way, it's laid out, there's more space for everything.
Cons
Flux in the low orbital area
Expensive
THE BOTTOM LINE
This compact, desktop-friendly form factor MC1 Solo is a component of the MC1 cluster that provides 32 CPU cores in a small, desktop-friendly package.