ODROID-XU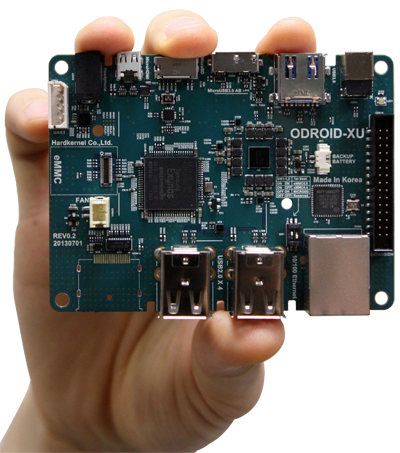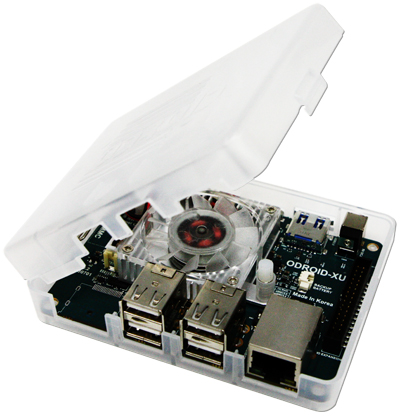 | | |
| --- | --- |
| Old as ov Nov 2020 | old |
| Name | ODROID-XU |
| Year | 2013 |
| SOC | Exynos 5410 Octa |
| CPU | Cortex-A15 / Cortex-A7 |
| Cores | 4 / 4 |
| Clock | 1.6 / 1.2 GHz |
| Bits | 32 |
| GPU | PowerVR SGX544 MP3 |
| RAM | 2 GB |
| Storage | microSD, eMMC |
| USB | 4 × USB 2.0, 1 x USB 3.0, 1 x USB 3.0 OTG |
| Video out | Micro HDMI 1.4a ( type D ), MIPI DSI, I²C ports |
| Audio in | 3.5 mm, HDMI |
| Audio out |   |
| Network | 10/100 Ethernet |
| Peripherals | GPIO, UART, I²C, SPI bus, PWMADC and LCD |
| Power source | 5 V 4 A (5.5 x 2.1 mm ) |
ODROID-XU - Third Party Review
Odroid is a single board computer that can be used as a portable game console running on Android OS. Hardkernal, a Korean open-source hardware firm, manufactures the device; both development and a complete version are available. The developer version is intended for people interested in creating programs, games, or other content for Odroid users. The Odroid device contains schematics to assist developers, source codes, and a debugging board. The Odroid developer community encourages worldwide engagement amongst Odroid users and developers.
More powerful, more energy-efficient technology and smaller physical size represent the next generation of computing devices. With open source support, the board can run a variety of Linux distributions, including Ubuntu and the Android 4.2 operating system. Using a USB 3.0 interface and an e-MMC 4.5 storage device, the ODROID-XU provides users with swift data transfer speeds, becoming progressively critical to sustaining state-of-the-art processing power on ARM devices. It lets users experience advancement in computing, including 3D game experience, web browsing, and speedier booting. The source code and documentation for the platform will be made accessible on the ODROID official forum.
Who should be interested in this board?
In addition to having more powerful and energy-efficient technology, the ODROID-XU4 has a smaller physical size than previous generations of computing devices. With open source support, the board can run a variety of Linux distributions, including the most recent Ubuntu 15.04 and Android versions 4.4 KitKat and 5.0 Lollipop.
The ODROID-XU4 features incredible data transfer rates because of the integration of the eMMC 5.0, USB 3.0, and Gigabit Ethernet interfaces, which is becoming increasingly crucial for supporting enhanced computing capability on ARM devices. Users will notice a significant improvement in computing performance, particularly concerning speedier booting, online surfing, networking, and 3D gaming.
The Odroid XU4 competes with gadgets such as the Raspberry Pi in terms of functionality. Many operating systems (OS) options are available for the Odroid XU. As a result of its increased RAM and computational capability, the Odroid XU4 is better equipped to emulate titles like Sega Dreamcast, Playstation portable, and Nintendo 64, which are sometimes too system-intensive for other boards. It is most suited for gamers who have difficulty finding a processor that betters their gaming experience.
What sets this board apart?
The ODroid-XU performs admirably for general-purpose CPU workloads, and its eMMC makes the machine run more smoothly. While hardware video encoding and scaling are not available at the time of writing, this may change in the future. Aside from video decoding, the ODroid-XU may be the right choice for you if you search for a compact, high-speed four-core ARM system that can efficiently run Fedora or other Linux distributions. When it comes to OpenSSL performance, the ODroid-XU has a significant advantage, and it also boasts the most excellent Octane performance of any ARM system in the series so yet.
Configuring an Odroid XU4 is a straightforward process. Aside from the mainboard, you'll need a 5V/4A power supply that is compatible with the mainboard, a microSD card or eMMC module, and, ideally, a case. In addition, you'll want an input device of some type, such as a small keyboard or a keyboard and mouse. Additionally, if you intend to use wireless networking, you'll require a USB Wi-Fi adaptor.
The fan noise and lack of support for hardware-accelerated video playback were the two most significant drawbacks I noticed with the ODroid-XU. The CPU itself should be capable of decoding and displaying information in up to 720p resolution. There are several possible accessories for the ODroid-XU; however, one of the eMMC boards, which allows you to choose the amount of flash memory you desire on your ODroid, should be at the top of your list.
What should users know about it?
The ODroid-XU has eight CPU cores configured in a big.LITTLE design, with four of the cores being active at any given moment. The Single Board Computer is equipped with 2GB of RAM, two USB 3.0 ports, a micro HDMI connector that can produce 1080p video, a microSD slot, and the option to connect up to 64GB eMMC flash memory to the system.
The Odroid XU4 is amongst the most capable single-board computers (SBCs) for running Chrome OS and Android. You may turn your Odroid XU into an Android desktop computer by using images for Android 4.4.4. Then you can easily download your favorite Android applications and software from the Google Play Store. Using a project like this, you may create a do-it-yourself (DIY) streaming and gaming set-top box that is great for gaming and videos. Aside from that, you may utilize an Odroid XU running Android to try out Android apps that are currently under development.
Here's what you should know about the ODROID-XU:
Type-D connection for the HDMI 1.4a output
USB 3.0 Host x 1, USB 3.0 OTG x 1, USB 2.0 Host x 4. LPDDR3 RAM PoP with 2Gbytes of LPDDR3 memory.
PowerVR SGX544MP3 graphics processing unit (OpenGL ES 2.0, OpenGL ES 1.1 and OpenCL 1.1 EP).
Cortex-A15 1.6Ghz four core and CortexTM-A7 quad-core processors are included in the Exynos5 Octa.
You can use MicroSD cards or eMMC modules to boot the XU. It is possible to pick the boot interface (MicroSD/eMMC) via a hardware switch that is easily accessible. The MicroSD interface can also support the more heightened performance UHS-1 mode.
A 512MB file (read/write) got accessed on three different storage solutions, and the results revealed significant performance disparities.
The eMMC 5.0 storage is approximately seven times quicker than the MicroSD Class-10 card in read testing. In read testing, the MicroSD UHS-1 card outperforms the MicroSD Class-10 card by around double. Many applications benefit from using the MicroSD UHS-1 card, a low-cost solution!
The takeaway
The ODROID-XU is a simple device to set up and operate. It is an excellent choice for a small form factor computer because of the wide range of operating systems it supports and the ability to customize it. It's a good choice for a primary PC and HTPC mix because it comes with a slew of pre-installed applications, including Kodi. Although the Odroid XU is a strong board, even felt performance is excellent. The entire experience, from the first boot up through hands-on use, is quick and responsive. Although there is no built-in Wi-Fi or Bluetooth, you will probably have spare Wi-Fi and Bluetooth dongles lying about. It is the only slight problem I have about the device.
The Odroid XU is a fantastic Linux desktop platform for those who only need to run the most basic programs. Odroid XU4 runs Linux and may be used for various tasks in the maker space, such as a vehicle computer, a power switch controller, and network-attached storage (NAS)/smart speaker combination device, among others.