ODROID-C1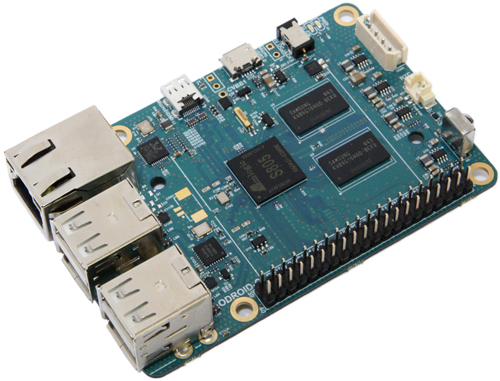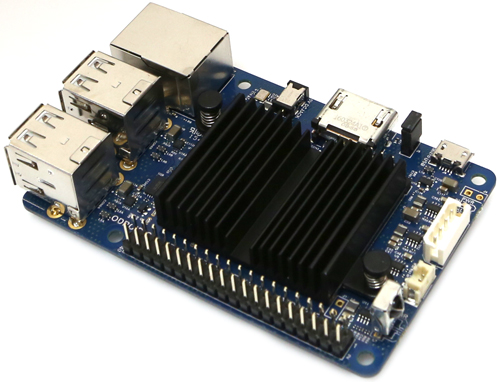 | | |
| --- | --- |
| Old as ov Nov 2020 | old |
| Name | ODROID-C1 |
| Year | 2014 |
| SOC | Amlogic S805 |
| CPU | Cortex-A5 |
| Cores | 4 |
| Clock | 1.5 GHz |
| Bits | 32 |
| GPU | Mali-450 MP2 |
| RAM | 1 GB |
| Storage | microSD, eMMC |
| USB | 4 x USB 2.0, 1× USB 2.0 OTG |
| Video out | Micro HDMI ( type D ) |
| Audio in |   |
| Audio out |   |
| Network | 10/100/1000 Ethernet |
| Peripherals | UART, IR, GPIO, I²C, SPI, ADC |
| Power source | 5 V 2 A (2.5 x 0.8 mm ) |
The ODROID-C1 is basically Raspberry Pi shaped. I think the aim with this line of odroid single board computers is to provide something that's both powerful and inexpensive. I think the aim was to compete with the Raspberry Pi. The features are a bit different but the layout of the board is very similar.
This board came out in 2014 and it features an Amlogic S805 SOC or system on a chip. It features a Cortex-A5 CPU with four cores. The clock speed is set to 1.5 gigahertz and it's only a 32-bit CPU. It features a Mali-450 MP2 GPU and one gigabyte of RAM. As with most odroid single board computers it gives you the option to choose between microSD card and eMMC memory. It comes with four USB 2.0 ports and one USB 2.0 OTG port. For video out it has a micro HDMI port which is a type d HDMI. It does feature gigabit Ethernet which is pretty nice. It features expansion pins including GPIO pins.
The ODROID-C1 is, I guess you could say, deprecated right now. It's been replaced by the C1+, the C2, and the C4 which is the current model of this line.