ODROID-N2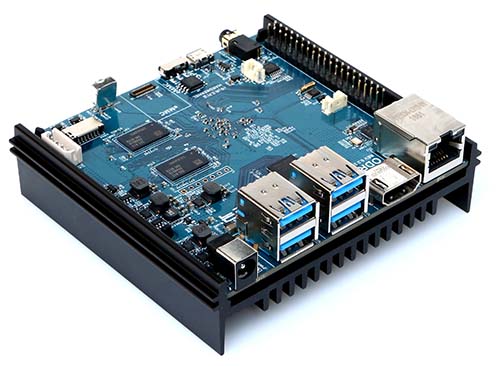 | | |
| --- | --- |
| Old as ov Nov 2020 | old |
| Name | ODROID-N2 |
| Year | 2019 |
| SOC | Amlogic S922X |
| CPU | Cortex-A73 / Cortex-A53 |
| Cores | 4 / 2 |
| Clock | 1.8 / 1.9 GHz |
| Bits | 64 |
| GPU | Mali-G52 GPU with 6 x EE |
| RAM | 2 GB / 4GB |
| Storage | microSD, eMMC |
| USB | 4 x USB 3.0, 1 x USB 2.0 OTG |
| Video out | 1 x HDMI 2.1, 1 x Composite ( on 3.5mm TRRS ) |
| Audio in | 3.5mm TRRS |
| Audio out |   |
| Network | 10/100/1000 Ethernet |
| Peripherals | UART, IR, GPIO, I²C, ADC |
| Power source | DC 7.5V ~ 18V (5.5 x 2.1 mm ) |
The ODROID-N2 and the N2+ are great options if you want a lot of power and you don't mind paying a tiny bit more.
The N2 came out in 2019. It features an Amlogic S922X which is basically a system on a chip that features a Cortex-A73 and a Cortex-A53. That's a combination of four cores and two cores for each of those respectively. They're also 1.8 and 1.9 GHz respectively. It is a 64-bit processor which shouldn't be too much of a surprise.
It features a Mali-G52 GPU and it also features anywhere from 2 to 4 GB of memory. It supports MicroSD and eMMC for storage. It has four USB 3.0 ports and one USB 2.0 OTG port. It has one HDMI 2.1 port and one composite on the 3.5mm TRRS port. It also comes with gigabit Ethernet which is pretty nice and it has a lot of the common UART, IR, GPIO, I2C, and ADC ports.
As of today this would be the ODROID to pick up if you want a little bit more power and if you're not looking for something that's a budget system.