ODROID-U3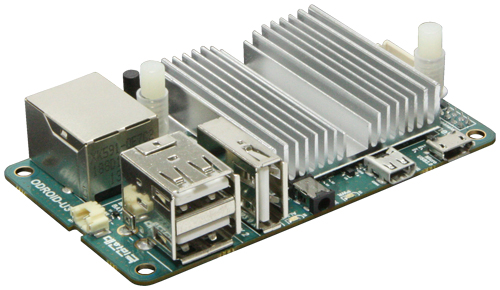 | | |
| --- | --- |
| Old as ov Nov 2020 | old |
| Name | ODROID-U3 |
| Year | 2014 |
| SOC | Exynos 4412 Prime |
| CPU | Cortex-A9 |
| Cores | 4 |
| Clock | 1.7 GHz |
| Bits | 32 |
| GPU | Mali-400 MP4 533 MHz |
| RAM | 2 GB |
| Storage | microSD, eMMC |
| USB | 3 × USB 2.0, 1 x microUSB 2.0 (ADB/Mass) |
| Video out | Micro HDMI |
| Audio in | 3.5 mm, HDMI |
| Audio out |   |
| Network | 10/100 Ethernet |
| Peripherals | GPIO, UART, I²C, SPI, PWMADC, and LCD |
| Power source | 5 V 2 A (2.5 x 0.8 mm ) |
The ODROID-U3 came out in 2014 and is basically a replacement for the U2. It features an Exynos 4412 Prime system on a chip which also features a Cortex-A9 CPU. It still only has four cores which are still only 1.7 GHz. Also it is still just a 32-bit processor but that's understandable since it came out in 2014. This was pretty standard for ARM processors at the time. The GPU on the U3 is slightly upgraded from the GPU on the U2. It still includes a Mali-400 MP4 GPU that runs at 533 MHz.
The U3 still only has two gigs of RAM and it still supports micro SD or eMMC for storage. it looks like it does have one additional USB port giving it three USB 2.0 ports. It also has a micro USB 2.0 port.
Similar to its predecessor it still has a micro HDMI port and a 3.5 mm audio port as well as 10/100 ethernet so no surprises there.
It includes pins for GPIO, UART, I2C, SPI, PWM, ADC and LCD.