ELEGOO Neptune 2 - FDM 3D Printer
The Neptune 2 is a FDM printer from ELEGOO. I generally think of SLA printers whan I think of this brand so I'm some what excited about what they can do in the world of FDM printing. Their other printers have shown excellent quality at very affordable prices. It looks like the same is true of the Neptune 2 printer. It can be compared to the Ender 3 Pro except that by default it includes features not present in the Ender 3. Basically, the Neptune 2 will give you more for less.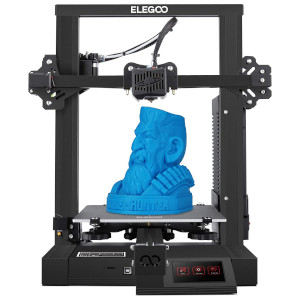 | | |
| --- | --- |
|   | Neptune 2 |
| Build Size | 220x220x250mm |
| Printing Speed | ≤180mm/s, normal speed at 30-60mm/s |
| Printing precision | ±0.1mm |
| Layer thickness | 0.1-0.4mm |
| Nozzle diameter | 0.4mm( swap with 0.3mm and 0.2mm ) |
| Nozzel max temp | 260° Celsius |
| Hotbed max temp | 100° Celsius |
| Connectivity | online and offline printing |
| File format | .stl, .obj, .amf |
| Filament compatibilty | PLA, ABS, TPU, PETG, Wood, Marble, etc |
| Filament diameter | 1.75mm |
| XY precision | 0.012mm |
| Z Precision | 0.001mm |
| Controller board | STEM32 F103 |
| Resume printing | yes |
| Filament detection | yes |
ELEGOO Neptune 2 FDM 3D Printer - Third Party Review
Being another great 3D printer from the Elegoo company. Neptune 2 stands out with its compact size and amazing features. The main feature of this model is its silent motherboard. The printing size of this model is slightly larger than that of the other small 3D printers. Being small doesn't mean that this printer is lacking. Some of its features are not available in even the most expensive 3D printers. If you want to find out more, keep reading.
Features
Again, let's focus on the design first. The Neptune 2 comes with a great choice of CNC extrusion. It is made from a machinable aluminum alloy. The 3D printer itself is half-assembled as soon as you open the box. That is done to save time for the customers and make it easy for them to set it up.
When we are talking about the power supply. The machine has a stable 400-watt power supply. The switched-mode power supply itself can help you protect your work from short-circuit or over-voltages. Although this is not something that happens daily, It doesn't hurt to be prepared.
Another of its features is smarter printing. By this, they mean that once the machine detects that the printing process is over, It will automatically stop working. This is great because it can save and extend the lifespan of your machine. Aside from that, it can even help you save a few dollars on your electricity bills.
Elegoo Neptune 2 offers a great user experience. It has an extremely- friendly interface, which operates in many languages. If this is not enough, the interface also gives you a preview of what your 3D print will look like even before you start working on it. Of course, it does it not only before you start. But also during the process of printing itself.
You can easily remove your 3D models after you finish printing with Neptune 2. That is possible because this model of hotbed uses a replaceable fiberglass sheet. You can change it, and the sheet has a polycarbonate surface. That is why you can remove your models easily and without worrying.
Last but not least is the silent motherboard. Well, this one is great, as not many can stand the noise of the printing process. It is frequently irritating, and many customers seek out 3D printers that produce as little noise as possible. The motherboard of Neptune 2 is 32-bit and offers a quieter printing process.
Conclusion
Like many of the other 3D printers made by Elegoo, The Neptune 2 is affordable and compact. It has all the features you may need. It comes with all of the consumables you'll need. Most importantly, the machine offers great quality in its prints. It has a compact design suitable for any desk. Maybe one of the most important factors is the quiet printing process. All this, plus the great price of only $180, makes this 3D printer a great choice.