Ethereum Mining Hardware
(My Rig September 2017 - March 2018)

Using a single GPU this thing does about 26Mh/s on average without me having to overclock it. It is designed to be expandable up to 6 GPUs.

Keep scrolling past the video for the parts list and more details.

A lot of my hardware decisions have been based on the /r/EtherMining subreddit wiki. Find it here: Reddit EtherMining




My Ethereum Mining Rig
Here is what my entire rig looks like. I used a storage crate as an open air chassis. All of the components are zip tied to the sides. It worked out pretty well. The crate is an old storage unit I bought at Wallmart years ago.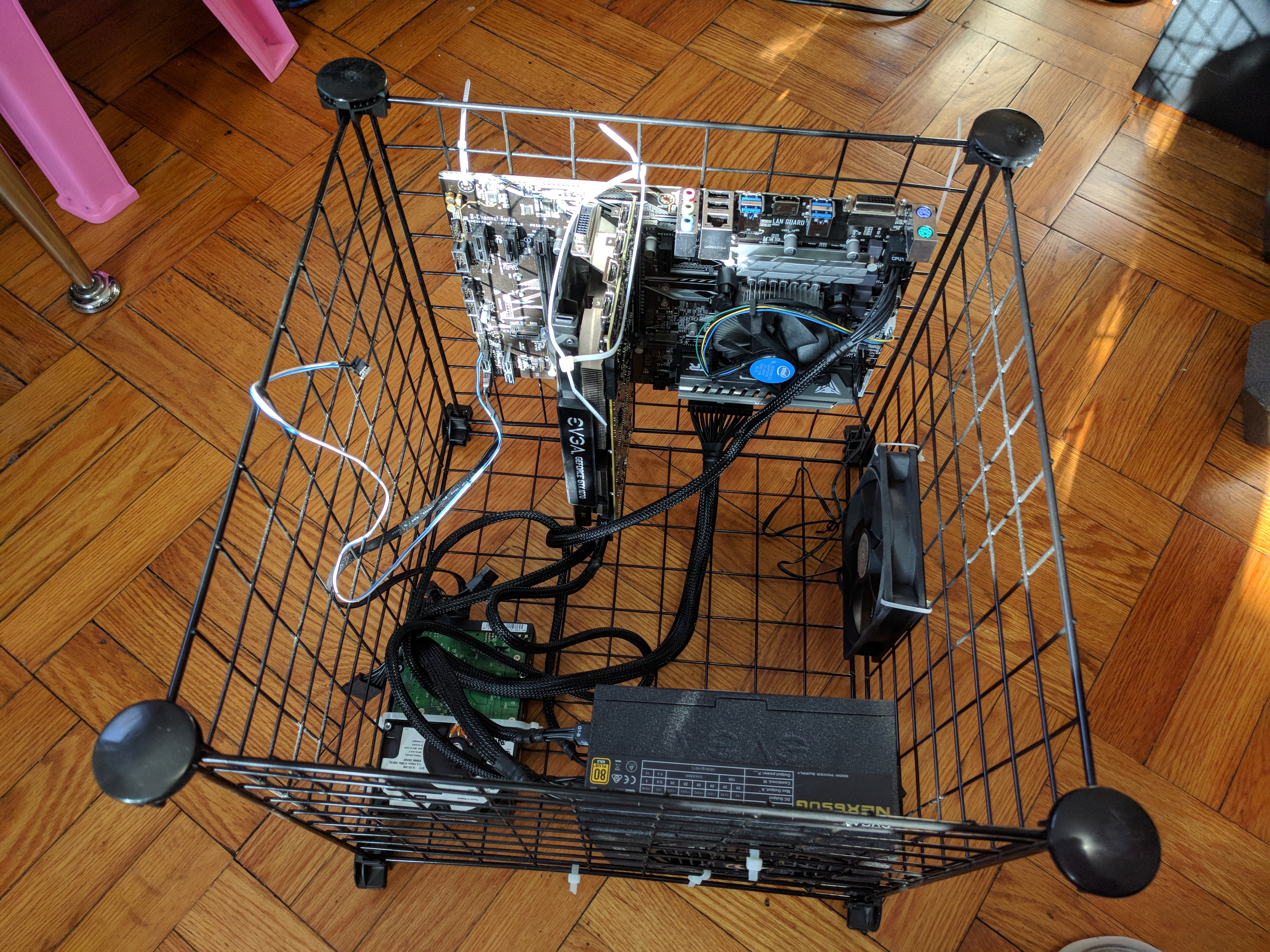 EVGA GeForce GTX 1070 SC
This has 8GB of GDDR5. I've been getting 26Mh/s and should be able to get more with overclocking. For my setup I've inserted it directly into the PCI-E slot since I only have one card at the moment. Once I expand and start adding more cards, I will need to connect each card with a riser cable. I will probably be suspending these in the center of the case. I'll also need a second power supply to support a full six cards.

You can buy this card HERE .

Here is a picture of it strapped to the chassis with a zip tie: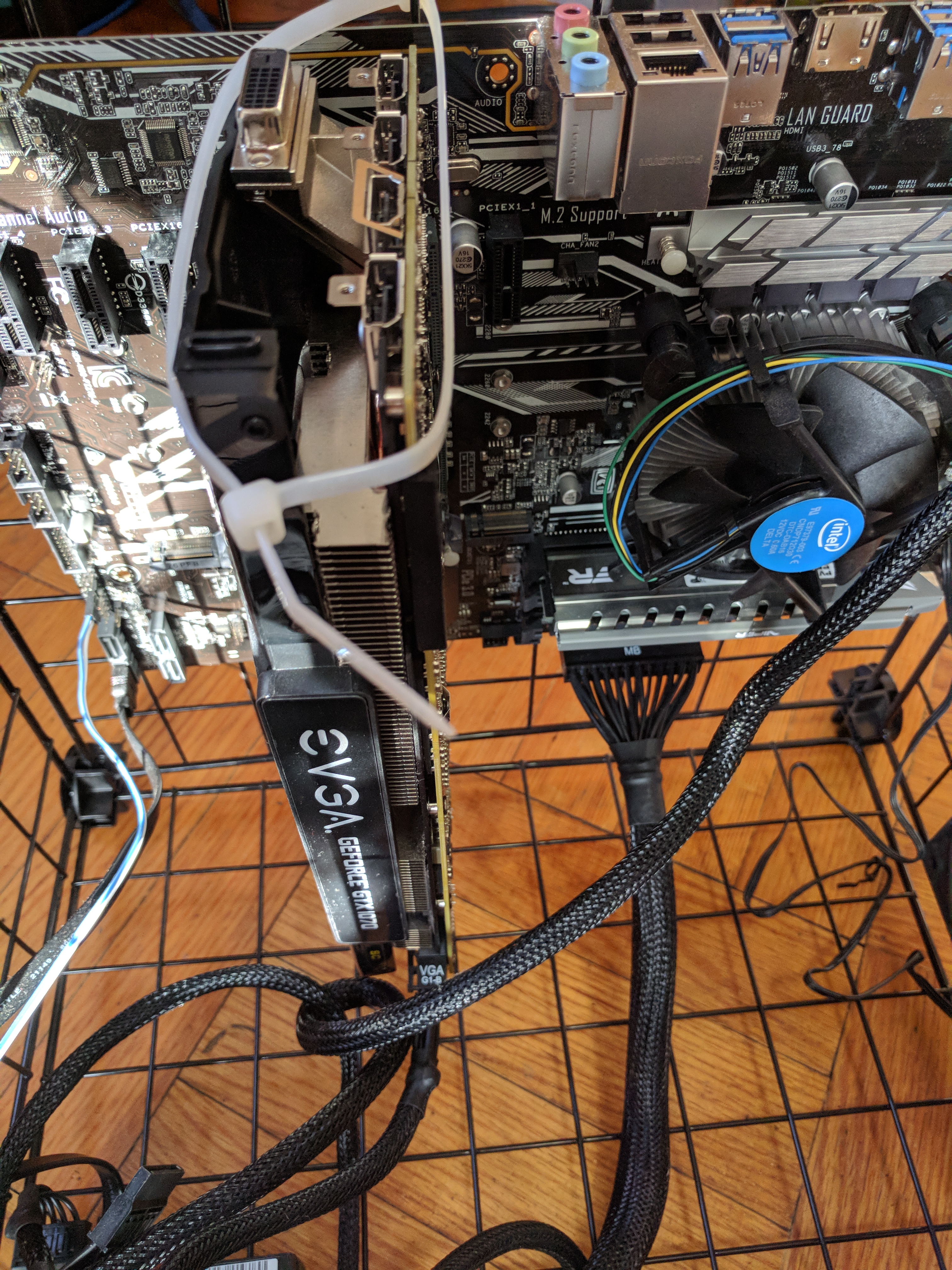 uxcell Power Button Switch
This is an easy component to overlook since it will usually come with whatever case you are building your PC with. Once you need to power your system on, you will quickly realize that you need one of these. If you really need to, you can just connect the two pins on the system board by touching them both with something metal like a screwdriver. This gets old really quickly. A power button switch is really cheap and easy to order online. You're going to want one of these if you are building a system without a case.

You can buy your own power button switch HERE.

Here is a picture of me holding the switch: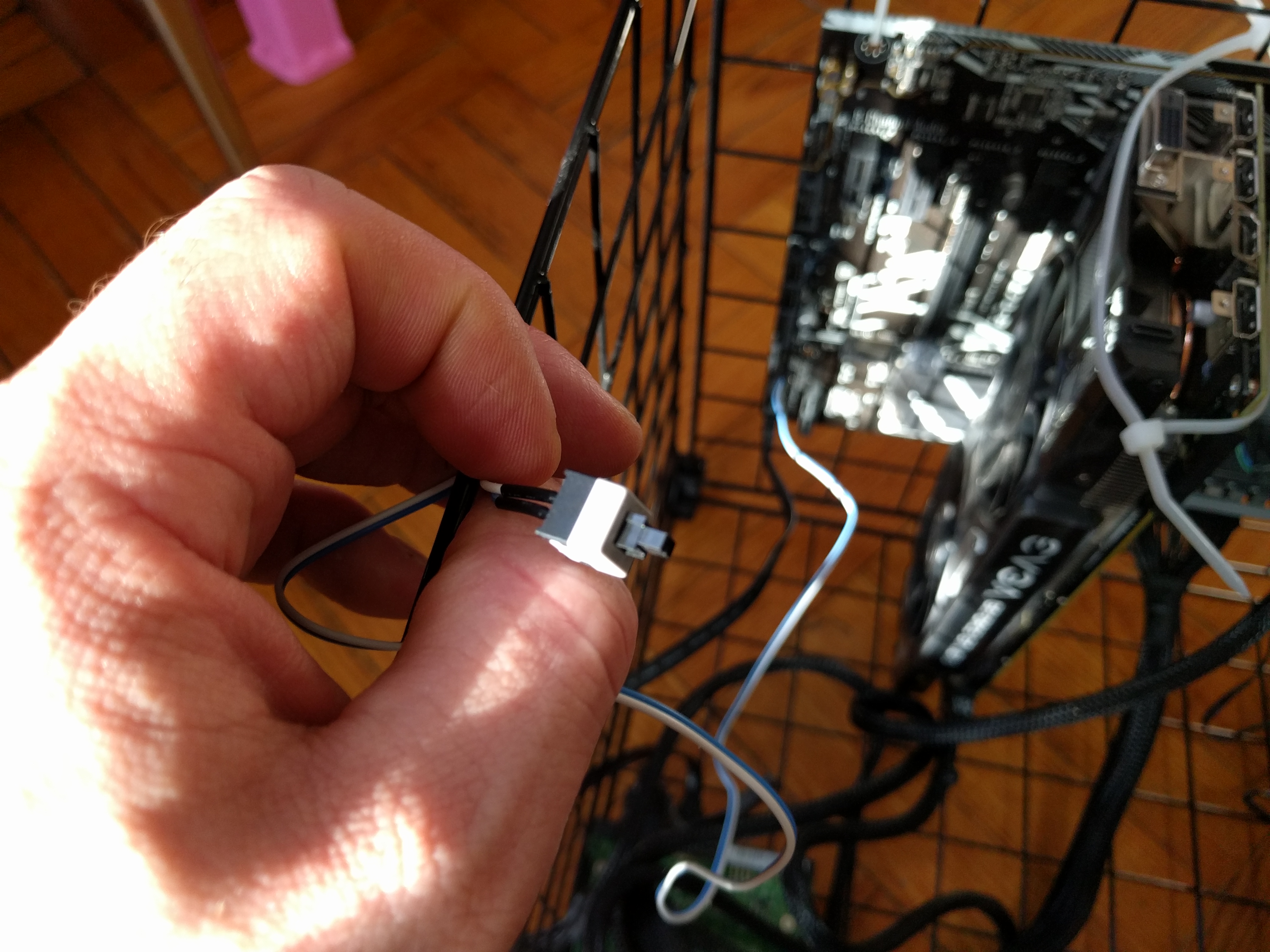 EVGA SuperNOVA 650 G1
80+ GOLD 650W
Fully Modular
Mining rigs generally require a strong power supply, usually over 1000W. These tend to get expensive but this isn't something you want to skimp on. In this case, the power supply I selected would NOT be sufficient to power a full set of 6 GPUs. It is enough to power a single GPU system but when I want to expand I am going to need more wattage. The plan in this case is to buy a second, identical power supply and run a dual power supply system. This is a little more complicated but two power supplys turned out to be cheaper than the single unit. It also requires less investment up front since I only need one to build a singel GPU test system.

You can buy this power supply HERE.


WARNING - You can't use this power supply with a full set of GPUs unless you buy two and configure a dual power supply setup.


Here is a view from inside the case: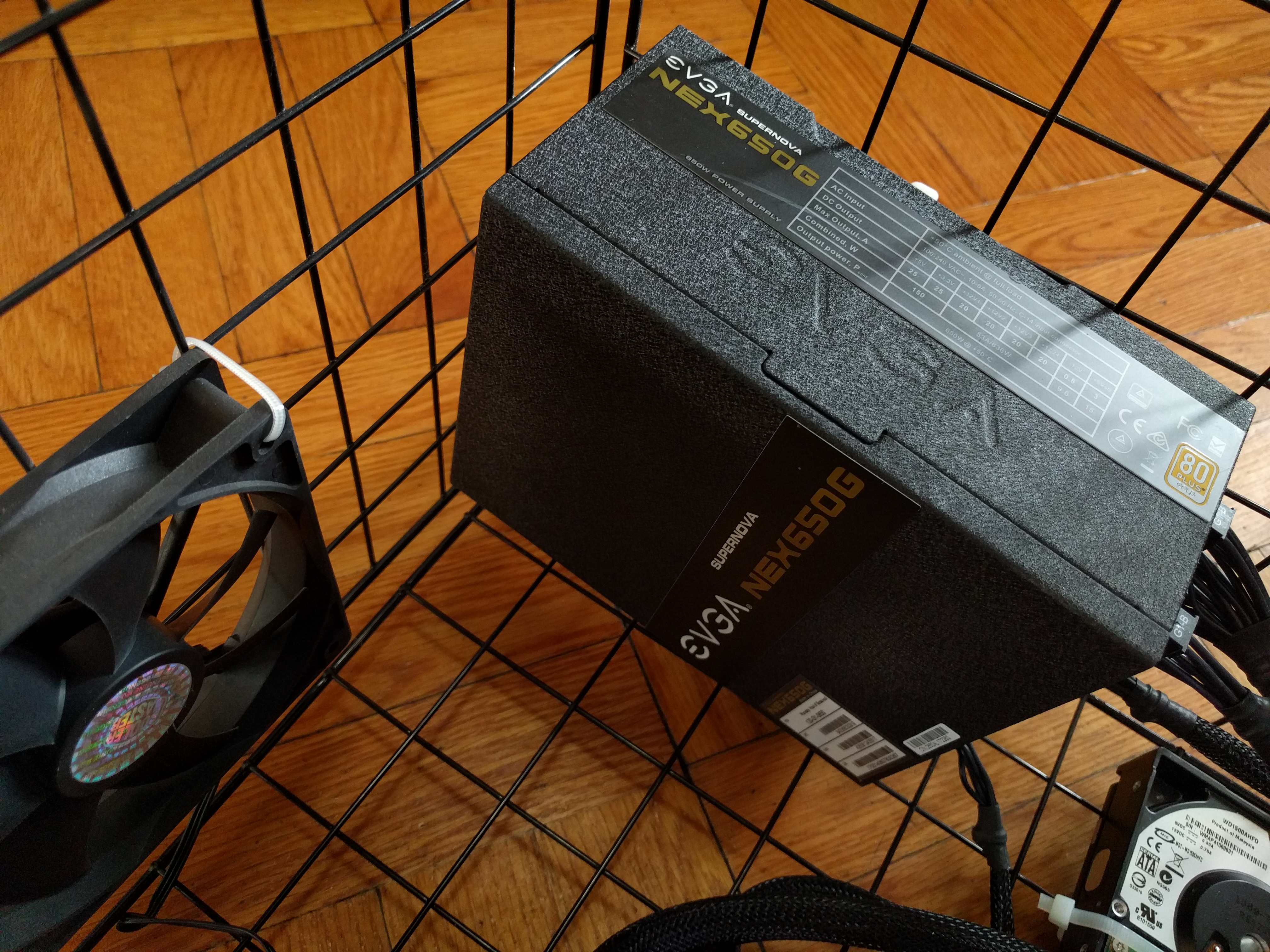 Here is a view from the outside of the case showing the PS fan: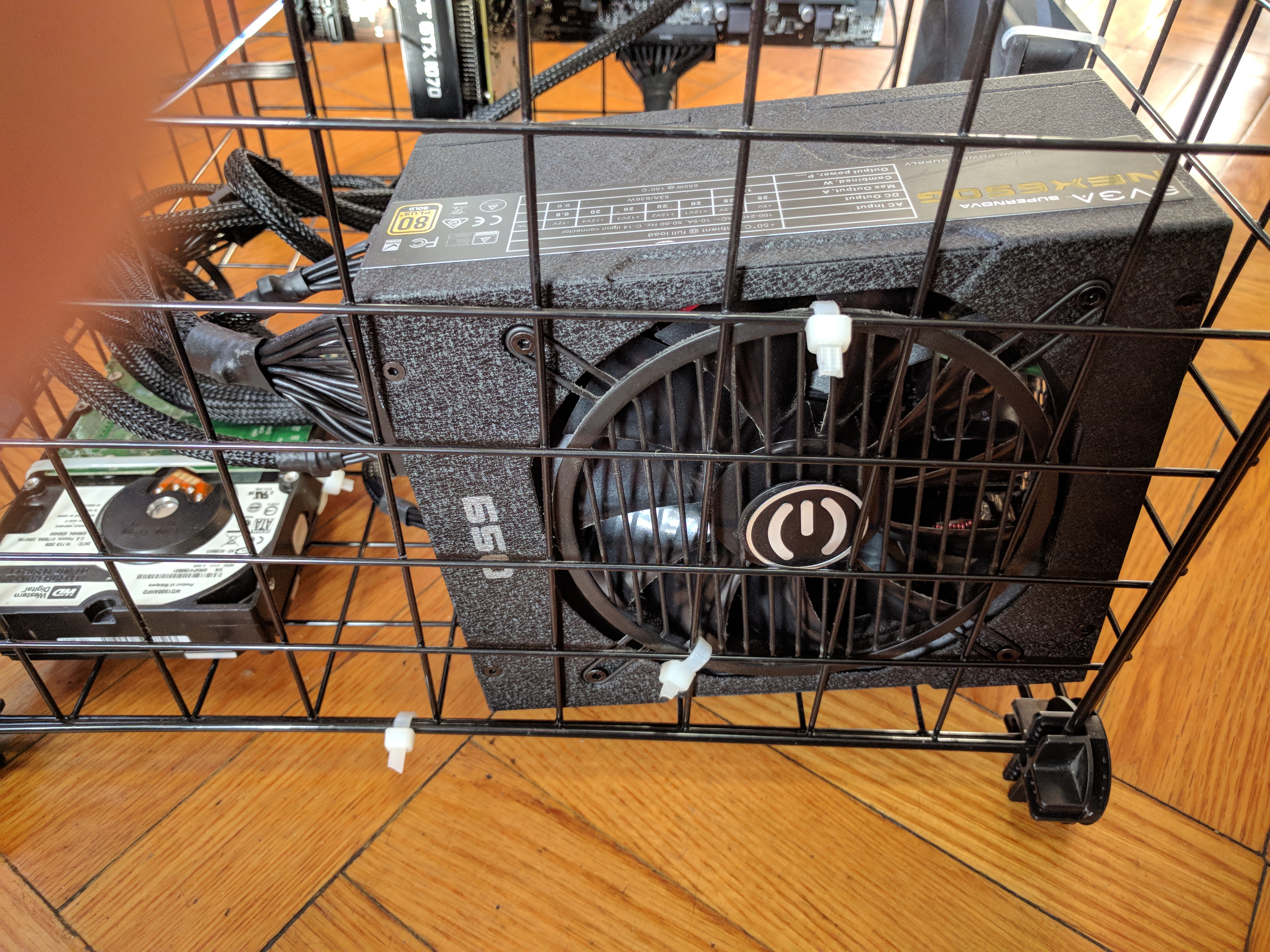 Patriot Memory Viper Elite Series DDR4
4GB 2400MHz (PC4-19200)
RAM isn't going to effect mining performance so I wanted to spend as little as possible. At the same time I generally don't want to build a system with less than 4GB RAM which is about as low as it gets anyway. I just picked out the cheapest 4GB stick of RAM I could find that would be compatible with my system board. This is what I got.

I bought it HERE.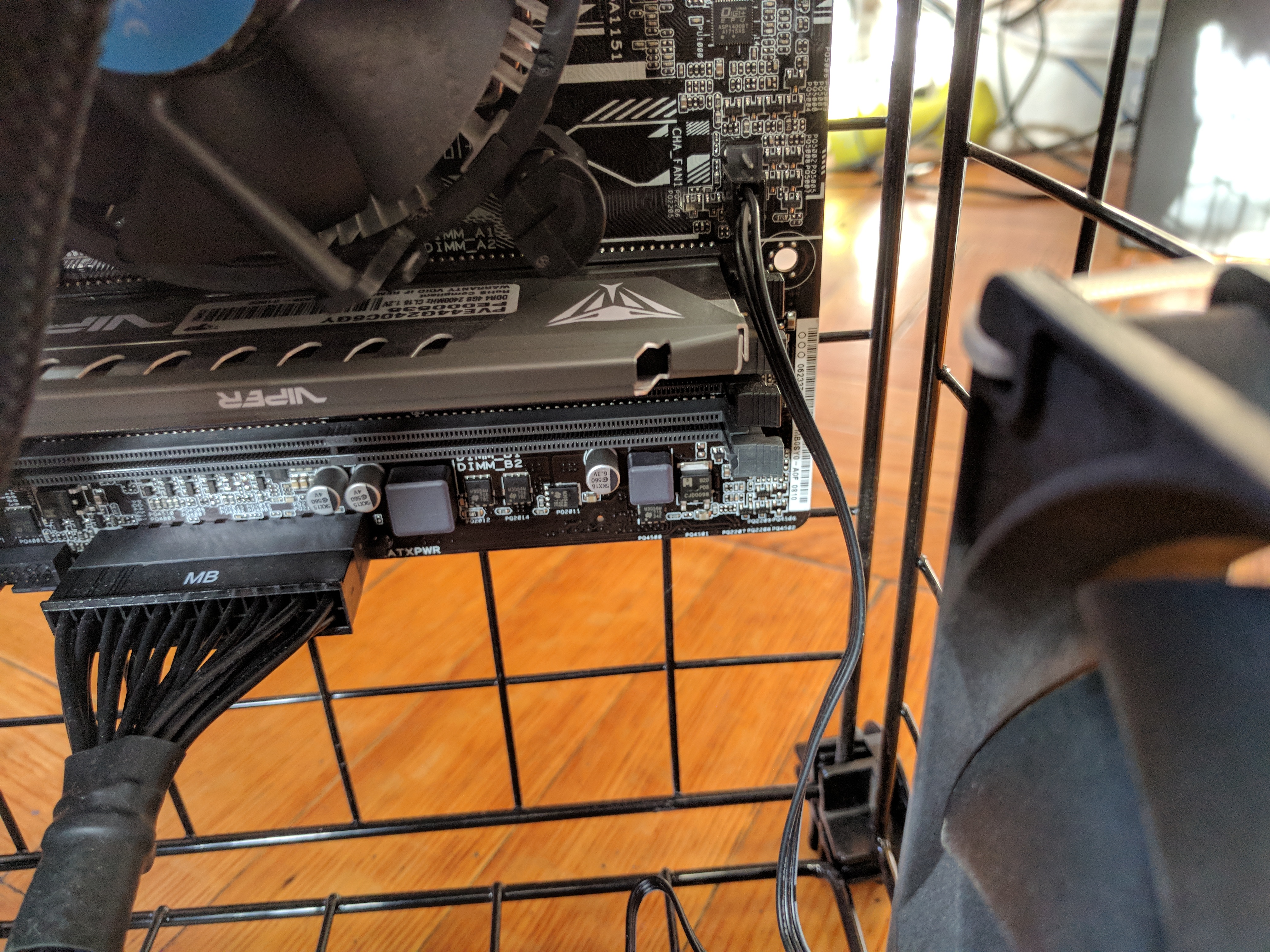 Intel CPU Celeron G3900
2.80Ghz 2M LGA1151 2C/2T Skylake Retail
This is the cheapest thing I could get at the time that was compatible with my system board. The CPU is not going to have an effect on mining performance so we just need the least expesive option that will get the system up and running. I normally wouldn't want to go lower than an i5 but in this case Celeron is perfect.

You can grab it HERE

Here is a picuture of the CPU: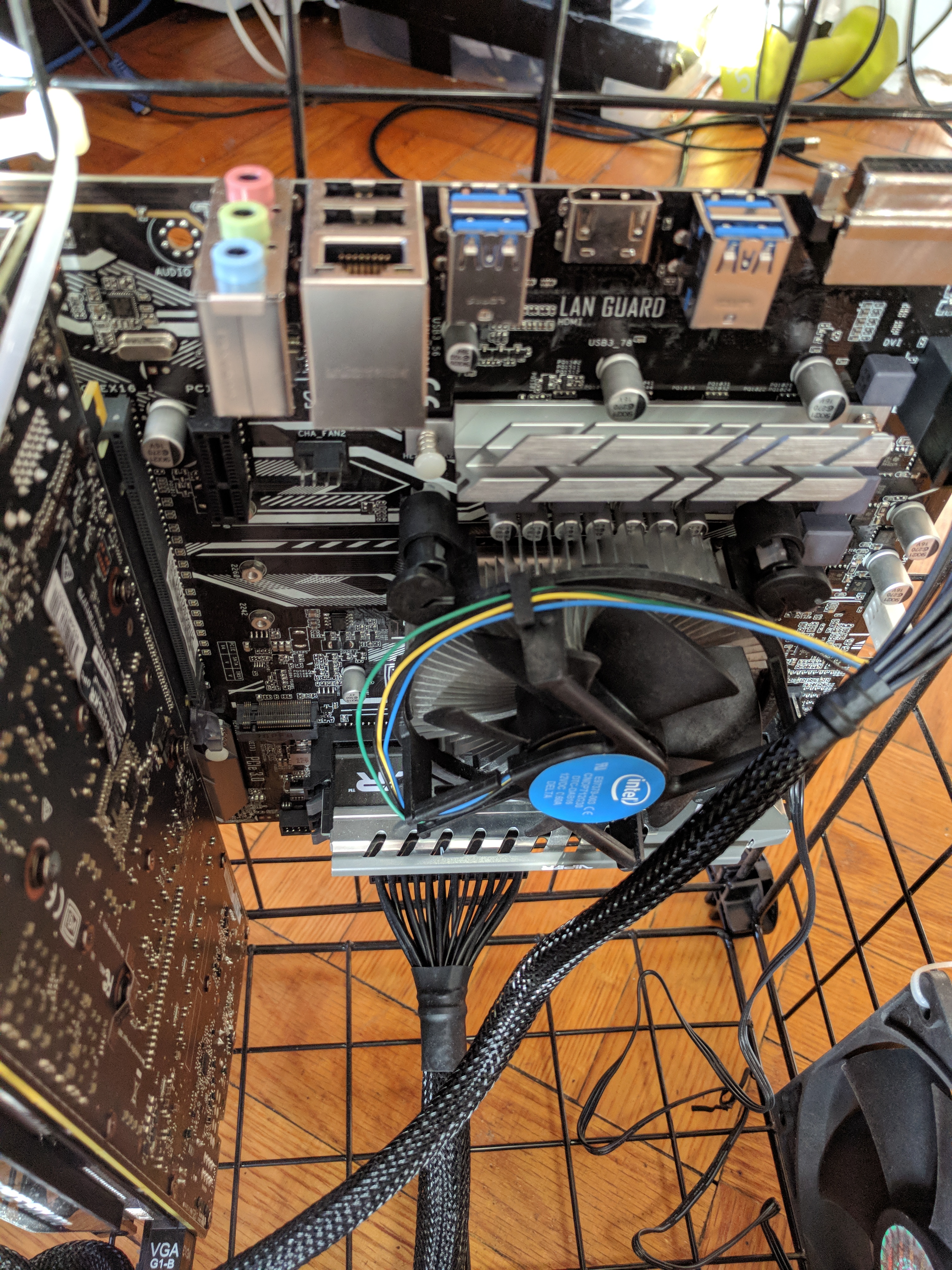 ASUS PRIME Z270-P
LGA1151 DDR4 Z270 ATX
The system board can make a big difference. The primary concern is that it can handle the number of GPUs I plan to use. First of all it is important to make sure that it has the correct number of PCI-E slots. Second, it is important to make sure tht it works withouth issue. We base this on what other peoples experiences have been with the same board. This board has been tried by other people and is recommended for running 6 GPU systems. Besides that, we just need to make sure that it matches the CPU and RAM.

You can find this board HERE .

This is a view from the top showing the ports: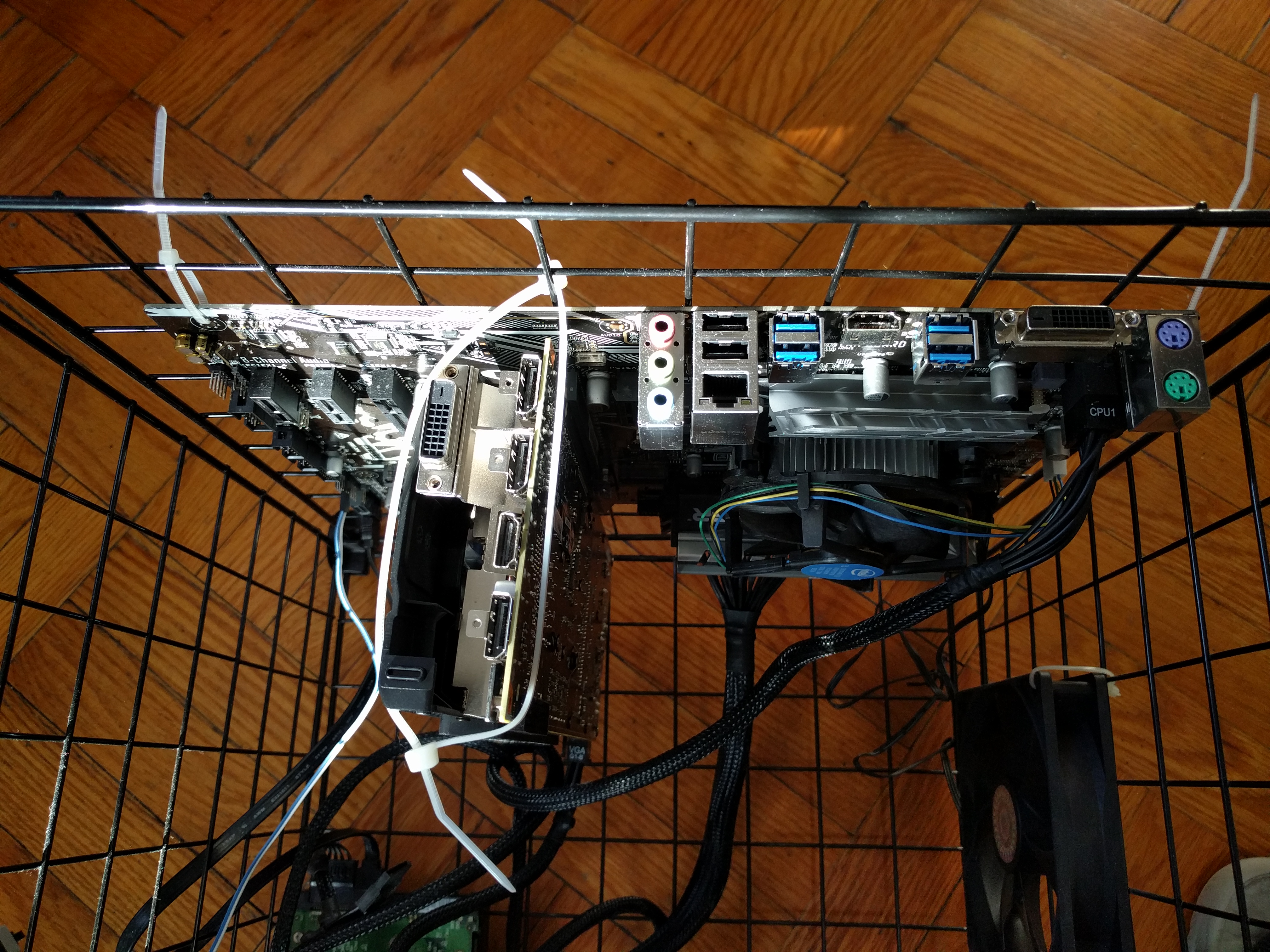 Hard Drive - Generic Spare ...
This was just an old spare hard disk I had in my closet. It is mechanical/magnetic and not fast at all which is totally OK since this doesn't affect mining speeds at all. We want the cheapest thing we can get for this.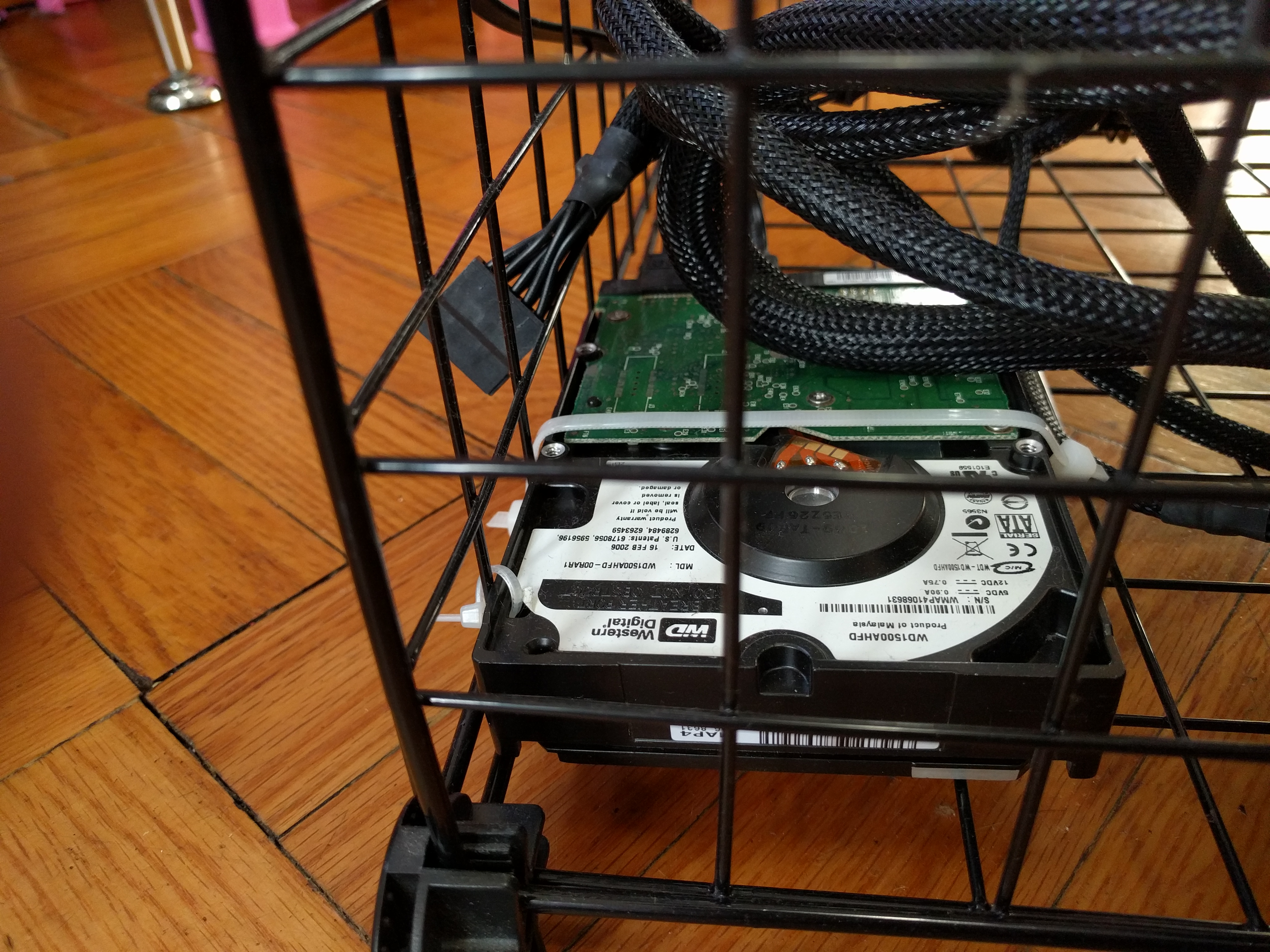 More

And this is the system fan that I zip tied to the chassis.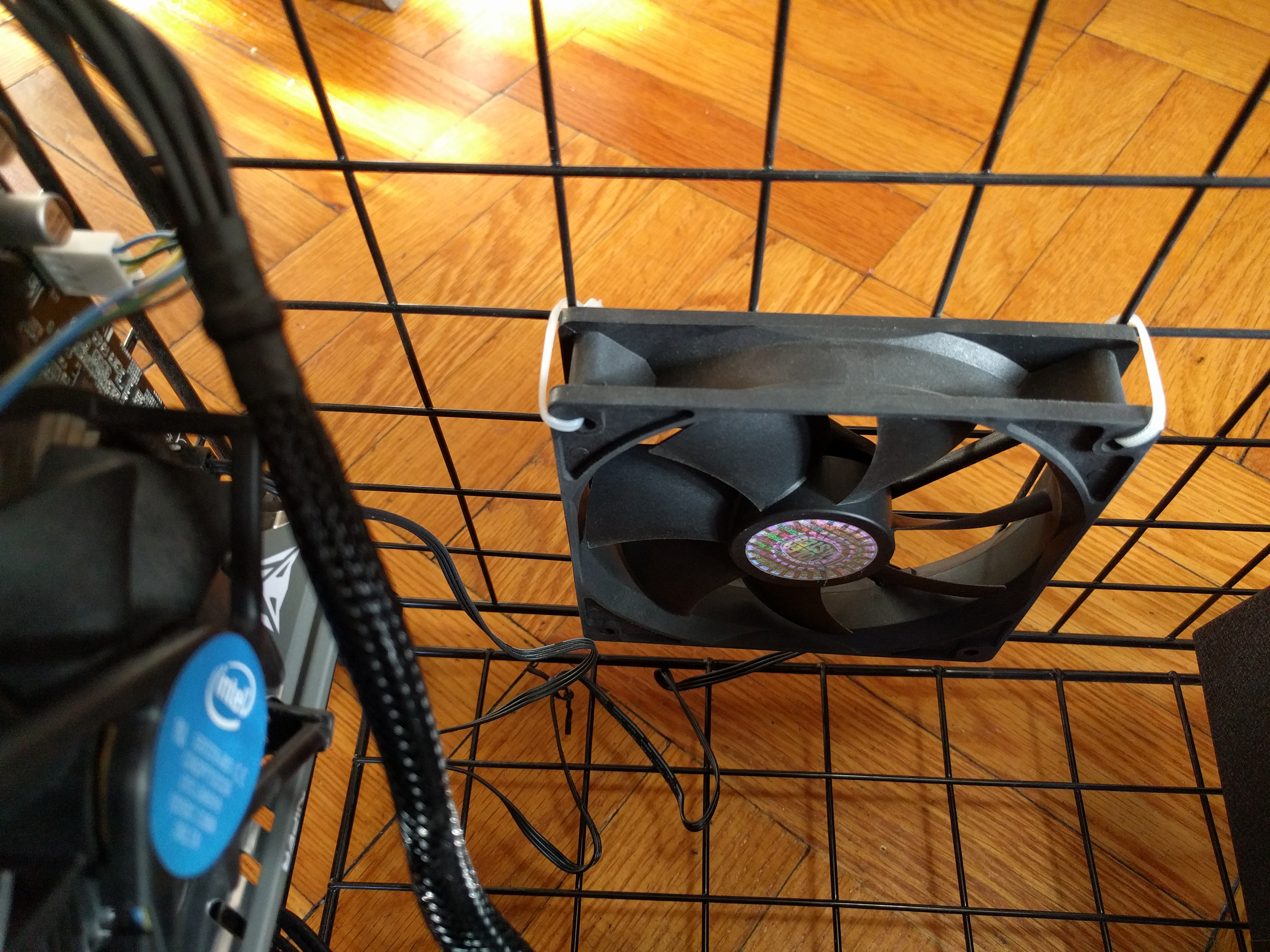 Here is another picture of the entire rig.